Peculiar Productions is a Cardiff-centric productions company specialising in the humorous, peculiar and fantastic. Here you can find out more about us, our current projects, and how to get your hands on tickets!
What's up next?
Peculiar Launch Event – games, live comedy and performance
28th April 2018, 4pm, Cathays Comunity Centre, Cardiff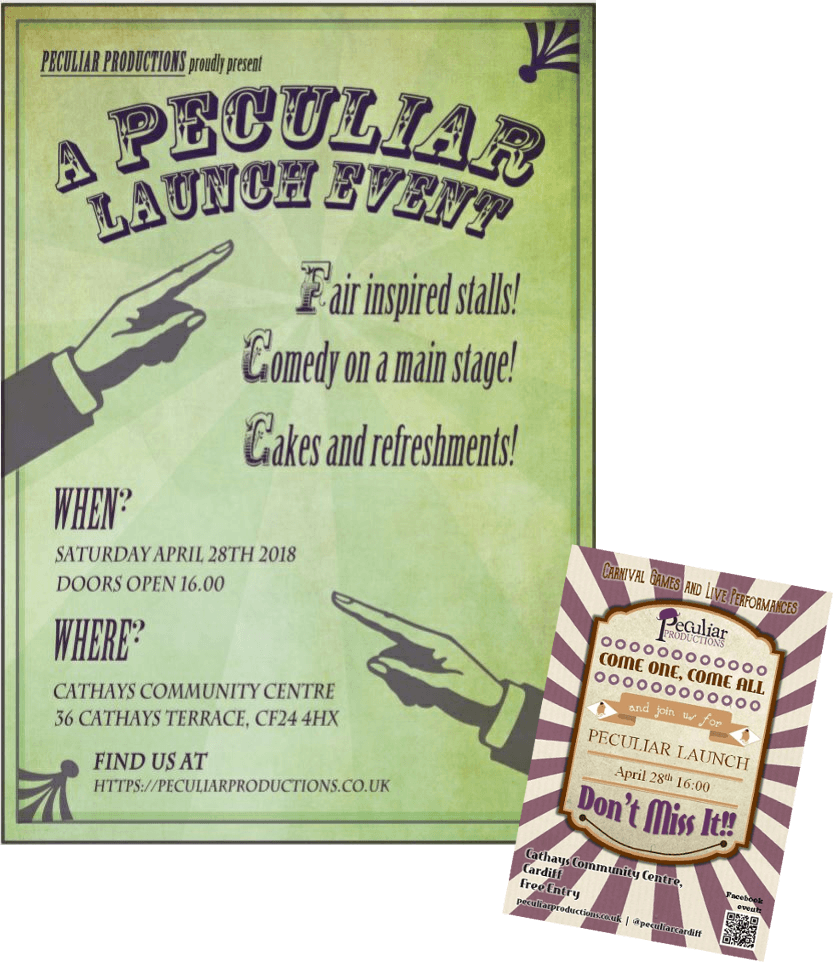 Peculiar Productions cordially invites you to our Launch Event at Cathays Community Centre on Sunday 28th April. The event is a fairground-themed offering of comedy shorts, games stalls and associated performers-from a juggler and a strongman to fortune tellers… with a familiar twist!
Doors open from 4pm, with a short welcome presentation at 4:30 during which we will reveal our very first Discworld play! (see below).
Entry is free (with a complimenary tea, coffee or squash), though you may want to bring change for freshly-baked cake, drinks, games stalls and fundraising auction.
Where's Cathays Community Centre? >
Check out the event on Facebook >
Terry Pratchett-based stageshow
21st – 25th August 2018, The Gate, Cardiff
Our first production will be an adaptation of a classic Discworld-series novel by legendary British comic fantasy author Terry Pratchett – we're keeping exactly which of his iconic works we'll be staging under wraps for the minute, but we'll be announcing it at our Launce Event on the 28th April. Come along to find out more, and keep an eye on our social media channels!
---