Sarah Roberts – Chair
Sarah has long been a lover of story-telling and spotlights. Starting at Caerphilly Youth Theatre, where she was once replaced by a sock puppet, Sarah has taken on a variety of roles both on stage and backstage, acting, directing and stage managing. Sarah has a BA in English Literature and an MA in Journalism, Media & Communication from Cardiff University.
For her day job in Marketing she writes copy for a variety of platforms. In her free time she writes some more. Sarah is a natural bossy-boots with nearly a decade of experience in competitive debating, making her an ideal (and somewhat terrifying) candidate for chairperson.
Suggested discussion topics: True Crime, badgers and owls, Emo music of the early noughties.
Topics to avoid: Geography (do not ask for directions) and squirrels.
Steve Durbin – Secretary
Steve, at nearly 60, provides the gravitas and depth to the committee. At least, that's what he says, there is a view that he joined the committee simply because he was in a hurry to get out of the AGM and raised his hand at the wrong time. He was born in Cardiff, but moved to Barry at age 5 days because big city life was a bit hectic.
Steve knows nothing about theatre, drama or literature, having spent most of his life tending boxes that go beep, but is a huge Pratchett fan so joined in because he wanted to bring Pratchett's fine selection of pompous elderly men to life, and didn't need expertise in theatre, drama or literature to do so.
Steve has more letters after his name than there are in a scrabble bag because he collect qualifications, and we can only find a sepia photo of him as he thinks coloured photographs are dangerously modern.
Suggested Topics: Pratchett, 'golden age' SciFi and Fantasy, cryptic crosswords
Topics to Avoid: IT, unless you suffer from insomnia and want to be bored to sleep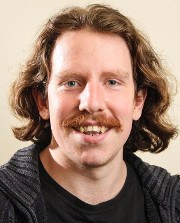 Ed Thomas – Treasurer
Ed has been involved in amateur dramatics in one way or another since he was about five, mostly as a cast member. More recently, he spent five years as a Co-Owner and Co-Director of Monstrous Productions, where he met many of the current Peculiar Productions team.
In his day job, Ed works for Cardiff Council's Electoral Services team, and is training as a counsellor. In his free time, he is also a keen amateur baker and avid walker. Ed's achievements include walking many of the UK's national trails and long distance footpaths. He was once almost on University Challenge, and has never paid for a hair cut in his life.
Suggested discussion topics: teas of the world, recipe ideas, twentieth century history, politics.
Topics to avoid: politics
Josh Flynn – Fundraising Officer
Josh has enjoyed getting involved with drama since he was 7. He first got involved in Monstrous Productions (and then Peculiar Productions) in 2015 after a friend of his poked him for a very long time until he relented and joined, and he has not regretted the decision since.
Josh works at a primary school as a teaching assistant. He also is the manager of a breakfast and after school club, marking maths and English papers on the weekend for KUMON. At some point he might consider taking on a 4th job possibly as a David Baddeil lookalike.
In his spare time, he likes swimming, writing and playing games.
Suggested discussion topics: Harry Potter, Disney and video games
Topics to avoid: Politics, football and geography (I have no sense of direction whatsover.)
Tony Beard – Productions Officer
To be added
.
.
.

Matt Edwards – Publicity Officer
Matt has been involved with Monstrous Productions (and Peculiar Productions) in Cardiff since 2014, where he joined to find some people to know in Cardiff.  He's mostly been involved with crew work, some acting and posting memes to everyone else.
Matt works as a freelance graphic designer and tutor, with a background in the third sector within Cardiff. He's a local foodie, and will have a list of restaurant recommendations ready for anyone ready to listen. He also really likes games. What a nerd.
Suggested discussion topics: Food, PC gaming, board games, politics, tech.
Topics to avoid: Sport. I'm happy to talk sport, but I know nothing about sport. Just pretend you're talking to Moss from The IT Crowd.