So – what exactly is 'Peculiar Productions'?
That's a very interesting question! Peculiar Productions is a Cardiff-based theatre and production company. We aim to produce two large shows or projects a year, and we try to make one of those an adaptation of a work by beloved British fantasy-comedy author Sir Terry Pratchett.
---
Sounds interesting. Could I join? How does it all work?
All our members are volunteers, and the proceeds of these large projects are donated to a chosen charity, which we announce alongside each production or project.
We advertise our open auditions, which are usually held a few weeks before rehearsals begin. Audition dates and other information you'll need will be posted on this website, and on our Facebook, Twitter and Instagram.
If you are cast in the production, congratulations! If not, you'll be invited to join in with a variety of other projects throughout the year, learn some new skills and get involved with our social events. Rehearsals for larger productions are twice a week until show week, when naturally things kick up a notch.
---
I'm not really that keen on acting…

A show needs all sorts of talents to help it get to the stage. We highly prize our crew and production team, so if you've got a passion for anything technical, design oriented (make-up, costume, set design etc…) or want to help the backstage crew, please contact us to discuss how to get involved.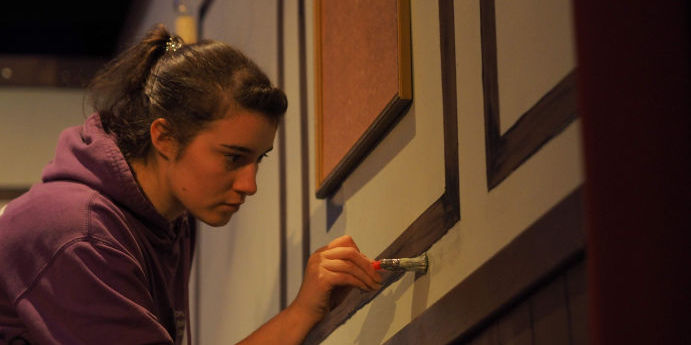 ---
It's not just at show auditions that we take on new members – you can get in touch with us at any point if you're interested in joining.
Membership is £20 a year, and we don't need you to have any experience in order to join – though we do require all members to be at least 18 years of age.
How can I get in touch with you?
Drop us a line via our Contact Us page and we'll get back to you.