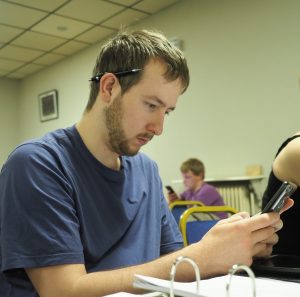 To highlight the unseen heroes of Theatre – the crew – we're shining a spotlight on the hardworking team pulling together the technical and production side of The Truth.
Who are you and what do you do?
I'm Joe – the Production Manager for The Truth.
What does a Production Manager do?
The Production Manager is responsible for the backstage and technical aspects of the show; it's their responsibility to bring the non-acting parts of the Director's vision to life.
How long have you been involved in Theatre?
I joined the backstage club at my school when I was 13 and since then I've been involved in more shows than I can keep track of. In that time I've held most roles backstage and even made a brief appearance onstage as a paramedic removing the body of a murder victim (complete with coloured chalk outline of the body)!
What's your favourite backstage department?
Normally I'm a Lighting Designer. I find that lighting gives the right mix between technical and creative elements, plus you get to play with lots gadgets!
I also love pyrotechnics and (having completed a training course on it!) I've now had the chance to be a pyrotechnician on four occasions, the most recent being making Errol breathe fire in Monstrous Productions' Guards! Guards!
What would you say is your greatest achievement in Theatre?
Probably creating a live rain effect on stage – it involved a rather complex arrangement of buckets, hosepipes and guttering. Myself and another member of crew had to spend half the play continuously mopping the floor to catch the drips that came off it, but it was worth it when we found out the reviewer from the local paper had asked the director how on earth we'd managed to make actual rain run down the windows.
What are you looking forward to most about The Truth?
With any show, I love using technical elements to create an immersive experience for the audience and The Truth is no exception. We're already looking at how we can use sound and lighting to help establish the locations within the play and how we can bring a little bit of Uberwald to life.
The biggest challenge is creating the press – not content with simply having a set piece that looks the part, I've challenged our Set Designers to create something that will have moving parts, as well as a few extra tricks up its sleeves… oh, and we need to somehow figure out how to get it into The Gate through some rather small doorways!
How do you feel on opening night?
In the hours leading up to the first show there's inevitably a rush of last minute jobs that need doing, so I don't really have the time to get nervous. It always seems that no matter how much forward planning you do, you always start your technical rehearsal feeling like you're running behind and come out of it with a long list of things that need sorting for the next day.
Somehow it all comes together just in time for the first show and once the performance starts it generally means I can begin to relax a little bit.