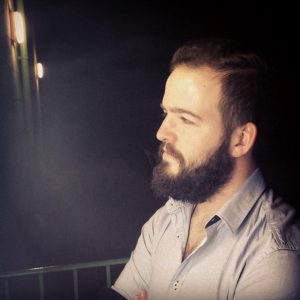 To highlight the unseen heroes of Theatre – the crew – we're shining a spotlight on the hardworking team pulling together the technical and production side of The Truth.
Who are you and what do you do?
I'm Sam, and I'm the Sound Designer for our upcoming play The Truth.
I've been working for years with live bands and in corporate events, and having moved recently into working in theatre sound I am looking at getting as much experience as I can doing my own sound design for the play.
What's your favourite part of being involved in this production so far?
Working out how to make props from scratch that will allow the actors to control the sounds that are being created. It's not the easiest task but there's a lot of info about that I'm making full use of.
What are your aspirations?
Being able to do what I like, and be able to survive doing it, probably? Hopefully not having to get a job that I really don't enjoy.
Do you have a favourite book, and why?
I'd have to say the first thing that came to mind was Faith of the Fallen, part of the Sword of Truth series by Terry Goodkind. I'm not entirely sure why I like this book so much, but it's the seventh in a series that really invests you in the characters, and has a lot of different elements that tie together brilliantly. I can't say a great deal more without spoiling it!
Favourite X?
Definitely the O.G., the one that really stresses you out when it appears in your mathematics somewhere and you have no idea where it appeared from. (That's "Original Gangster" for anyone who's not had the pleasure of accidentally joining a hip-hop crew – Jack)