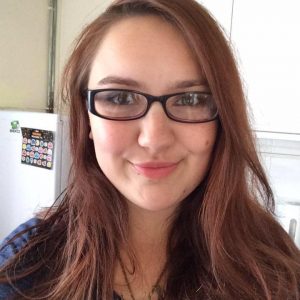 To highlight the unseen heroes of Theatre – the crew – we're shining a spotlight on the hardworking team pulling together the technical and production side of The Truth.
Who are you and what do you do?
I'm Hannah–the video designer for our production of The Truth and a member of the publicity team.

How did you get to where you are today?
In terms of life, I came to Cardiff for university and just didn't leave.
In terms of video designer, I come from a stage management background but was asked whether I could take on the video design role for this play. I didn't have much experience at the outset so it's a challenge but I'm confident we're doing some great work and expanding into areas we haven't explored yet.
I'm really enjoying the film and editing side of the role, and it's an increasingly useful skillset to have these days.
What are your aspirations?
Part of my day job involves tutoring–a lot of my clients have very nice homes in lovely locations, so I'd love to have the same some day!
I've got a list of shows I'd love to get to see, like The Lion King.
What's your favourite book and why?
Really? I'm not answering that. It's too big a question. Books are like people – different ones are good for different reasons. ('I'm guessing Sophie's Choice isn't on the shortlist then' – Jack)
What favourites things will you answer?
I love Mexican food and dark roast coffee.