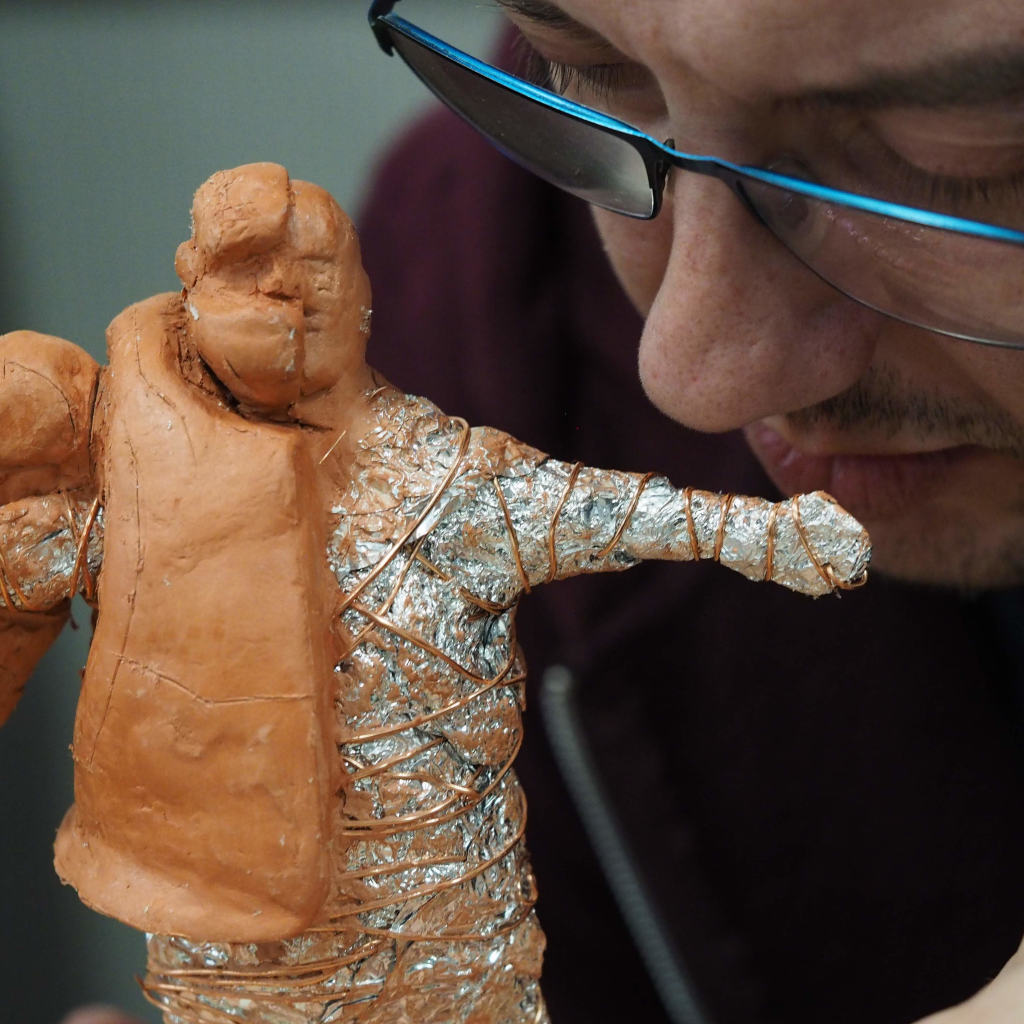 Behind the acting, laughter and bravado lies the hard work and efforts of our crew, from set design and lighting/sound effects to costume design and prop design. It's really important to us to recognise the work everyone puts in off-stage as well as in front of our audience!
We thought we'd take a few moments to talk to Matt Burnett on his efforts with one of the stars of our show, member of the City Watch Detritus…
What have you been involved with in the past with Peculiar/other Pratchett plays?
My first Pratchett play was Monstrous Productions' Night Watch. For my second (Eric), I was overjoyed to be cast as Death and resolved to make my own mask for the role (in my head, Death's face stays motionless while he 'talks' so I didn't want to use makeup). It was a lumpy and messy first effort but it did the job – it also persuaded the director to let me help build the golems for the next production, Going Postal. With a lot of help, we built two full costumes and I wore one of them ("Mr" Pump 19). The next production was The Amazing Maurice and his Educated Rodents, for which I was back on familiar ground, focusing on masks (nine rat masks in total for the non-thinking rats in the story) and in my comfort zone again playing Death. I was Death once more (with an improved version of the mask) for Guards! Guards! (the final show from Monstrous Productions), after which I decided to take a sabbatical to focus on other projects. After seeing The Truth and Arcadia (both from Peculiar Productions), I figured I'd been away long enough and I was ecstatic to be on board, crafting and performing for Men at Arms! Wait, exhausted, that's what I meant. The first one too. Definitely exhausted though.
Can you outline the creative process taken so far?
From the get go, the focus for building a costume for Detritus has been the artist in the suit. John has fantastic vocalisation and stage presence, and I didn't want the costume to restrict either of those. I drew the first concept art for the costume directly onto a photo of John so the proportions in the body and the face would line up as planned. Once the concept art was refined and approved, I sculpted a maquette (basically a scale mock-up) at 1/10th scale. This was covered in masking tape which allowed a pattern to be made and scaled up. This process is messy (especially when you're an amateur like I am) and there's lots of adjustment along the way. The full scale patterns can then be cut out and assembled, giving us the basic shape of the costume.
The biggest challenges, I think, have been working with materials that are new to me (more on that in a minute), but I've had guidance from people more experienced and I've also been bingeing cosplay tutorial videos on YouTube, trying to repurpose what I've learned there for this project. I've also had to get a bit inventive to keep it all as breathable and lightweight as possible (I can tell you, from experience, that those suits get hot inside, even without stage lights!).
From the get go, the focus for building a costume for Detritus has been the artist in the suit. John has fantastic vocalisation and stage presence, and I didn't want the costume to restrict either of those.
How long has the design taken, and how many hours would you think would end up going into the creation of Detritus overall?
I haven't the slightest idea just how long it's taken – an awful lot of time has been spent figuring out various elements and troubleshooting but I'm not sure if that counts toward the build time. Also sometimes the answers come when you're in the middle of something else (which is so inconvenient)!
What sort of materials have you used? Any particular design tricks or tips you're willing to share?
The bulk of the costume uses EVA foam rubber – find it in packs of floor mat tiles at Halfords and B&Q! It's a commonly used material in cosplay and it's really versatile and durable. For tips on getting to grips with this stuff, I'd recommend YouTube channels like Punished Props Academy, Evil Ted Smith, and Kamui Cosplay.
The rocky outer shell is made of expanding insulation foam (cut into rocky shapes, coated with papier-mache to cover all the holes). Between the (ventilated) EVA foam and the insulation foam, there's a layer of PVC mosquito net to help cover up the artist inside but still allow air flow. The semi-puppeted arms are built around a frame made out of PVC pipes providing the 'bones' of the arms and distributing the weight across the artist's shoulders underneath the armour on the torso. The armour is the same material as the rest of the body, just with a different finish applied.
Are there other characters you'd like to take a shot at designing, inside or outside of the Discworld universe?
I have a hard time with wish lists like this… I think I could do better building golems with my newly gained experience so Dorfl (from Feet of Clay onwards) could be fun. Part of me wants to take on the War Horse challenge so that Death can have Binky! On a smaller scale, I've been wanting to make a Death of Rats (either as a puppet or as a costume for a performer on the shorter side) for ages now.
---
See Matt's handiwork up close on August 21st to 24th at The Gate Arts Centre for Men at Arms! Tickets are available on our website. See you there!