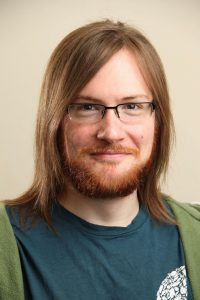 I've been slapped in the face by an angry engraver, menaced for cash by a litigious zombie, interrogated by a semi-supernatural police force, and irritated by an incessant turnip-fancier.
I think you'll like this show.
Hello! I'm Loz, and I'll be playing William de Worde in Peculiar Productions' stage performance of Terry Pratchett's The Truth, taking place in Cardiff this August at the beautiful Gate Arts Centre.
It's a challenge I'm seriously enjoying, but it's also quite unlike anything I've tackled before.
With Monstrous Productions, the much-loved Pratchett theatre company that delighted audiences until its closure last year, I got to try my hand at being everything from a sarcastic back-street doctor to a bumbling occultist. I've had a bit of a shave since then – I don't think William looks quite so much like he's got a corgi stuck to his face!
But this time, in a new company formed by Monstrous' members, I'm donning the velvet jacket of a chap whose hopes and fears will be only too familiar to young people everywhere.
While dodging paid assassins, talking dogs and everything else the world conjures up, William has to answer all the tricky questions of youth: what is my role in all this? How much responsibility do I have to society? Can you really take on the big guys? What, when you get right down to it, is actually going on?
William's world may be in another universe, but the genius of Pratchett is that it doesn't seem quite so different.
So I don't need to have read Pratchett then?
Absolutely not. While the show is crammed with little details that the Pratchett faithful will pick up on, Pratchett was a master at creating people, places and problems that you'll instantly recognize and that form the backdrop for both his comedy, and his social commentary.
In fact, in our age of fake news, faker politicians and constant shouty headlines, The Truth may be more relevant than ever.
The Inside Scoop
I've loved every second of being a part of this. We've got a very talented and innately funny cast. Our deft director is a lifelong theatre lover with a real flair for exciting staging. People bring muffins to rehearsals. It's great.
It's also given me a chance to do something I always love, and that's share a stage with one of my oldest friends, Josh, one of the funniest people I know. He's playing William's business partner, so spends most  of his time getting increasingly sick of my nonsense. A real acting challenge, I'm sure.
(I do wish he wouldn't swing his massive axe at my legs, though. Yes, it's just a prop. No, I don't care.)
Oh, and it's very difficult not to corpse when William's colleague and lead writer gets very, very angry about a cow that simply should not be present. I'd say it's a 'you'd have to have been there' moment, but we're selling tickets!
I'd love for you to see this show. Not just because I've had to learn all my lines, but because I think you'll have an absolutely marvellous evening. It's been put together with a huge amount of hard work, skill and enthusiasm by a group of people who've volunteered their time, purely because they love theatre, storytelling and making people smile. And if that wasn't enough, proceeds go to the very worthwhile Cardiff Mind.
And as for that turnip fancier – well, you'll just have to come along and find out. See you in August!