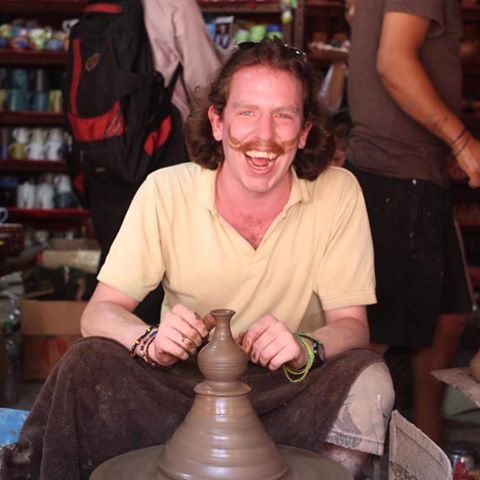 To kick off our Meet the Actor series, we are showcasing Ed who will be playing Valentine Coverly, the mathematically-minded eldest son of the household.
Ed recently returned to the stage as Mr Slant in Peculiar Productions' debut show 'The Truth' after five years of co-directing for Monstrous Productions Theatre Company, during which he made a delightful cameo as a vampire desperate for a cup of tea. Perfectly cast in our opinion, as Ed's tea collection is the envy of all.
How are you like your character? Valentine is breathlessly enthusiastic about the projects that he is involved in. But he can quickly get frustrated and a little petulant when they're not going the way he hoped. I love a good project myself and can definitely relate to both the enthusiasm and the frustration he experiences when he is pursuing his passions.
How are you not like your character? I don't actually know much about science. Quite unlike Valentine, I've always been more for the arts.
What about Arcadia are you looking forward to the most? I'm really looking to getting to grips with Valentine. He's a really interesting character, as well as being one of the largest role I've played. I immediately liked the character when I read for him during auditions, so I'm very excited to start getting into the way he thinks and feels in rehearsal.
Other than your own, who is your favourite character? Bernard. He's the polar opposite to Valentine, yet there are also some striking similarities between them. I'm really looking forward to seeing how we bounce off each other as the play begins to come together.
If you could travel to a different time, when and where would you go? I'm a big classical music geek, so I'd love to go back to the early 1800s (around the same time that the early Arcadia scenes are set). That period was when the Classical and Romantic periods overlapped and great composers like Beethoven were making music history.
Why should people see Arcadia? It's clever, funny and very modern. I didn't know the play before auditions and the Wikipedia synopsis wasn't much help! On reading it though, I was impressed and surprised by just how modern it feels. It has some interesting things to say about science and art, but it's also a pacey whodunit with plenty of smutty jokes thrown in.
How have you found it going from co-director for Monstrous Productions to life treading the boards? I've loved it. To be involved in directing for five years was a fantastic opportunity and I loved every minute. But, as our director often joked, I did miss getting to act regularly. Leaving the bigger picture to someone else and focusing solely on my own role is something that I really enjoyed for The Truth. I'm even more excited to do this for another, larger role.