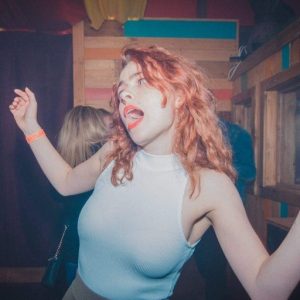 This week, meet our Hamilton-loving half-pint Lowri. She will be playing Chloë, a young woman fascinated with dressing up, socialising, and ruling the roost. You are likely to have seen Lowri as Magrat in 'Wyrd Sisters' and 'Witches Abroad' with Monstrous Productions, with whom she also leapt around the stage as the Librarian in 'Guards Guards'. Children the world over love her energy, which is great since she will be starting Early Years teacher training next June! We couldn't be prouder.
Although Chloë and Lowri are very alike, we fully believe Lowri is a million times sweeter and more caring – will Chloë make a monster out of her?!
How are you like your character? I feel like me and Chloë have the same level of sassiness, and we both love a good costume party! Although she feels a lot more brand and style oriented than me, I don't think a modern day Chloë Coverly would shop at Primark.
Do you have a favourite flower? A daisy. They always remind me of summer and flower crown making with my friends in school.
Do you have a favourite garden? My grandparents'. My bamp makes these wooden figures and their garden is filled with them, it's so sweet and homely.
If you could travel to a different time, when and where would you go? Oh there are so many, but I can narrow it down to 3; Victorian London, Ancient Greece or Ancient Rome.
What challenges do you anticipate (for yourself or the team as a whole)? I think the changing between time periods is going to be interesting to have audiences follow, but I'm pretty sure we're up to the task!
What would make you challenge someone to a duel? Anything. I say 'fight me' a lot for a girl who's 5 ft tall and has a hard time opening some doors.
If money was no issue, how would you spend your ideal week? It's a toss up between seeing as many Broadway shows as possible, or a week in Disney World.