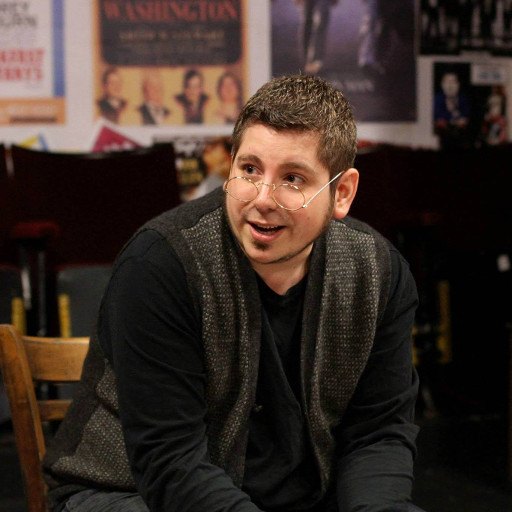 Week three of our introductions to the beautiful people gracing the stage in February. Today it's Matt, who will be filling the shoes of critical Bernard Nightingale. Matt was one of the most loyal members of Monstrous Productions, first appearing in Mort in 2014 and never leaving our side – he even dabbled in being a stage-hand once! After getting in touch with his feline side in The Amazing Maurice for Monstrous Productions, Matt went a little more canine in Peculiar Productions' The Truth in August.
Matt is a very busy bee at the moment, but has spared a moment to tell us all about himself.
How are you like your character?
Bernard is very passionate and fiery. He can display good emotional intelligence and is able to talk persuasively and engagingly. He gets very excited in new ideas and is quick on the uptake, 'joining dots' quickly. As a Myers-Brigg personality archetype, he's a 'driver' which I share with the character. According to far too many people who have met me and know the script my temper tantrums share his very closely. I think it reflects what an excellent writer Tom Stoppard is with how well he captures this personality type with both the good and the bad.
Do you have a favourite flower?
We like to grow orchids at home. I admire their elegance and how they always strike me as otherworldly.
Do you have a favourite garden?
I absolutely do! As I grew up in Hampshire, I've spent countless days at Sir Harold Hillier gardens in Romsey. Over decades he assembled a truly remarkable collection, aiming to bring together the most comprehensive and unrivalled collection of trees, shrubs and hard hardy plants in the UK. To me it's a place of childhood whimsy and fond memories as well as being 200 acres of a stunning variety of plants.
What challenges do you anticipate (for yourself or the team as a whole)?
This is the first time our company is moving away from Terry Pratchett plays. I really hope we can get this right as it represents a shift in tone for the company and attract an audience who has previously come for a very different experience.
If you could have a conversation with any dead historical figure, who would it be and what would you talk about?
I'm afraid it's a bit of a stock answer, but thinking it through I'd have to go with Leonardo Da Vinci. It's harder to think of someone more gifted by brilliance and genius than what we know of him. I'd love to know what scientific advances he could create today, knowing what we know now, or architecture, or even his art. We couldn't talk though, my Italian is non-existent, so I'm going to have to assume he'd quickly get bored and create something fantastic and original instead of being able to talk.
Why should people see Arcadia?
Because it's a real piece of Theatre. It should make you think and make you feel. It really draws the audience in and is bound to have something you can relate to. Science, literature, sex, pigeons! Take your pick!
---
Matt is starring as Mr Utterson in 'Dr Jekyll and Mr Hyde' in the Dolman Theatre in Newport next week. You can buy tickets to see his talents here: https://www.facebook.com/events/2191022524488492/