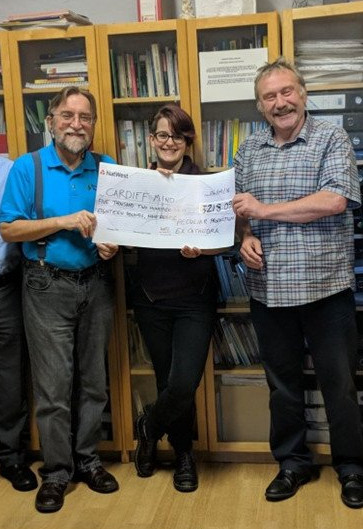 One in four adults in the UK will experience difficulties with mental health at some point this year. One in six are going through it in any given week. These statistics, from mental health charity Mind, help show why support for mental health – a topic many find it difficult to discuss – is so important.
It's also why we chose to support a mental health cause for our first-ever production, Terry Pratchett's The Truth, earlier this year. Cardiff Mind has been an invaluable service to the Cardiff community for decades, having been registered as a charity and company since 1993. They provide assistance ranging from counselling to domiciliary support and more.
Members of our committee and the production team for The Truth met with Roger Bone, Cardiff Mind's CEO, and his team to hand over a cheque for £5,218 – the proceeds from The Truth. Around half of the money came from the show itself, but the final figure was made possible by an immensely generous donation of £2,500 by Steve Durbin, on behalf of Ex Cathedra Solutions. Steve is one of our members, and also appeared alongside many of The Truth's cast and crew in shows performed by former Cardiff theatre company Monstrous Productions.
'We're delighted to receive this donation from Peculiar Productions,' Roger said. 'With so many people struggling with mental health difficulties, it's great to see community efforts like this helping support the people of Cardiff through aiding the work we do.'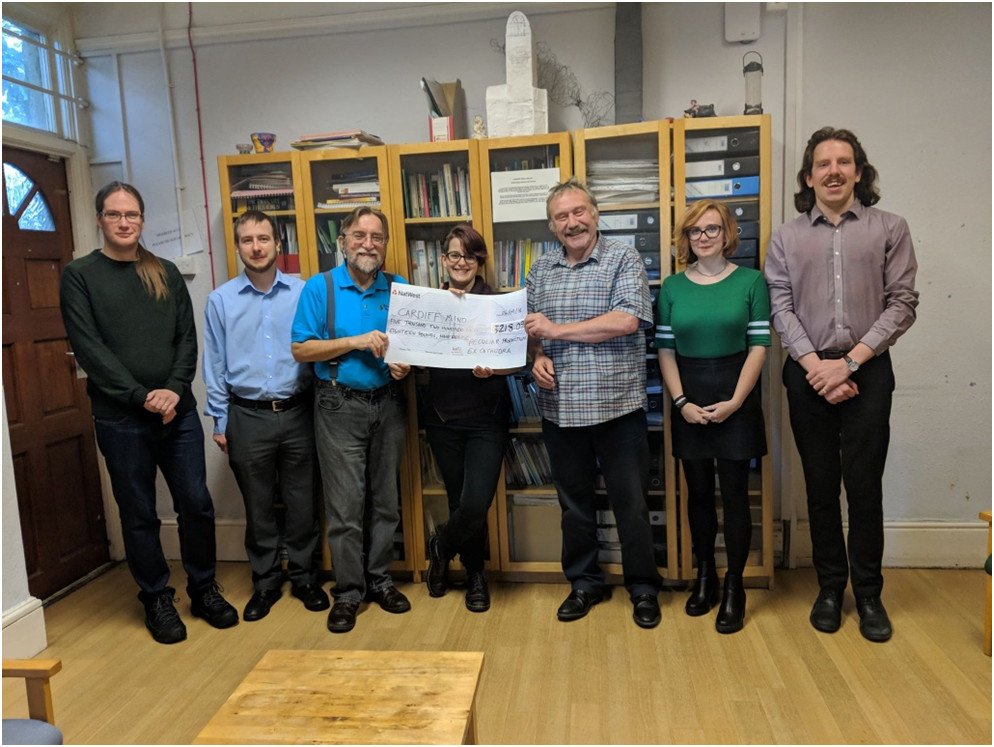 'They do so much good for the community'
'We're really proud that we've been able to raise such an amazing amount – and for such a worthy charity- with our very first show as Peculiar Productions,' our chair, Sarah, said. 'Hopefully our contribution will help Mind continue the great work they doing supporting those in Cardiff with Mental Health Issues. Thanks to everyone who contributed to our fundraisers and came to the shows and helped us exceed our fundraising target.'
The show's director, Ellen, adds 'Not only did we have a blast putting on the play, it has an absolute pleasure to be able to donate so much to Cardiff Mind, and I'm thrilled to be able to support a local charity like this. They do so much good for the community.'
Roger has told us that the money will be put to good use almost immediately. We look forward to seeing the difference to Cardiff that he and his team will continue to make.
And there's more!
For our next production, Tom Stoppard's Arcadia, we'll be raising money for The Brain Tumour charity, who do a staggering amount of work to support people – and the families of people – diagnosed with brain tumours.
Arcadia runs from the 21st to the 23rd of February 2019, at the Paget Rooms, Penarth. Tickets will be available soon; details will be available on our tickets page.