"Excellent cast bringing great energy to a witty and engaging play" – Audience feedback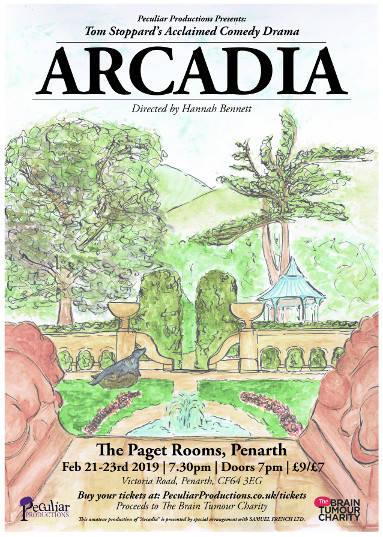 By Tom Stoppard. Directed by Hannah Bennett.
21st – 23rd February 2019, The Paget Rooms, Penarth.
Peculiar Productions presents Tom Stoppard's fascinating and witty comedy, Arcadia. Winner of the 1993 Laurence Olivier Award, Stoppard's script is a sparky, intellectual masterpiece from one of the UK's most talented playwrights.
At Sidley Park in 1809, the house is rife with intrigue and happenings, as the infamous Lord Byron is staying with the Coverly family. Whilst the gardens are being redesigned – much to Lady Croom's distress – the youngest daughter, Thomasina, is being tutored in the classics by Byron's contemporary, Septimus. Two centuries later, a group of academics convene at the same location to discuss the events that followed: did Byron take part in a fatal duel? Is the story of the mysterious Sidley Park hermit really just a myth? And who was spied with Mrs. Chater in the gazebo?
We're delighted to annouce that we've donated £1,000 to Arcadia's chosen charity, The Brain Tumour Charity!
This amateur production of "Arcadia" was presented by special arrangement with SAMUEL FRENCH LTD.
---
What audiences said
'Excellent cast bringing great energy to a witty and engaging play.'
'Excellent portrayal. The cast are excellent. Completely satisfied.
'Wonderfully performed. Great set. Very funny and entertaining.
'Had us laughing from beginning to end.'
'Everyone was excellent. The set is gorgeous.'
'It was brilliant. Very well cast.'
---
Production photos
Rehearsals and behind the scenes
---
Cast and Crew
Directed by Hannah Bennett
Cast
---
Hanna Jarvis – Katya Moskvina
Septimus Hodge – Lawrence Quilty
Valentine Coverly – Edward Thomas
Bernard Nightingale – Matthew Hitchman
Thomasina Coverly – Caitlin Bamber
Chloe Coverly – Lowri Belson
Lady Croom – Ellen Warren
Captain Brice – Christopher Maxwell
Gus / Augustus – Joshua Flynn
Ezra Chater – Tony Beard
Richard Noakes – Paul Woolley
Jellaby – Terrance Marshman-Edwards
Crew
---
Production Manager – Sam Lews
Stage Manager – Vicki Rowe
Assistant SM – Matt Edwards
Musical Director – Richard McReynolds
Head of Props – Alice Boswell
Set Design – Lizzie Mulhall
Lighting Design – John Simpson
Sound Design – Loz Shanahan
Hair & Makeup – Kat Orford
Prop & Costume Assistant – Sarah Dicks
Wardrobe Management – Soph Warnes
Front of House Manager – Sarah Burrow
Hair & Makeup Assistant – Sarah Roberts
Prop & Costume Assistant – Sam Steele
Set Design Assistant – Tony Beard
Prop Management – Josh Flynn
Copywriter – Terrance Marshman-Edwards
---
Downloads
Coming soon