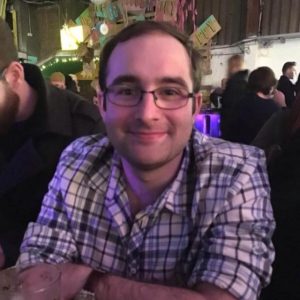 Hello! My name is Josh, and I am peculiar.
About three years ago, my childhood friend Loz approached me to join a theatre company called Monstrous Productions that specialised in plays by the late, great Terry Pratchett, who were at the time planning a production of Night Watch.
As someone who had never read a Discworld book I was unsure about auditioning, but after being poked and prodded approximately 27,880,978 times I eventually agreed.
It's a decision that I have never regretted. I had a blast doing Night Watch, made some wonderful friends and had the pleasure to play some great characters in other shows – from a pin obsessed postman to a blind albino rat.
When Monstrous shut down last year there were a lot of worries that the bizarre little family we'd formed would go its separate ways. Thankfully The Show Must Go On, and out of the ashes Peculiar Productions was born!
And here we are: one week to go until Peculiar Production's first show, Terry Pratchett's The Truth.
What is The Truth?
The Truth is the story of William de Worde, a man who accidentally becomes the editor of the Discworld's first newspaper. Together with his press crew, he goes out in search for the truth that no one seems to care about, and make sure they'll find it no matter what trouble it brings their way.
In The Truth I play Gunilla Goodmountain, the inventor of the printing press and William De Worde's business partner. Goodmountain is very much the voice of reason at times – which was a challenge because I am most definitely not sensible at all! In a weird way Goodmountain reminds me a lot of my Grampy, who always tends to speak his mind, gets a bit frustrated at times but cares deeply for his friends and loved ones.
Some of my favourite moments are the interactions I have with William (who is being played brilliantly by the aforementioned Loz). It's been great bringing in my real-life friendship with him into the show.
I'm still learning the ins and outs of Terry Pratchett's Discworld, but it's been a joy to be a part of this show and see everyone bring their characters to life. Our director, Ellen, has been doing fantastic work–showing a real love and respect for the source material.
Why should you watch this show?
If you want a show you can be sure the director, cast and crew have poured their hearts and souls into, with a bit of comedy, mystery and fantasy thrown in… then this is the show for you.
I promise you that once the lights go down, you'll be whisked away to another world!
Also we have a vampire and a talking dog, which is always awesome.