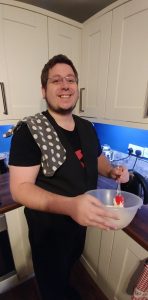 Meet the team kneading and proving Peculiar's next production Arcadia ready to rise to the stage in February 2019!
Who are you and what you got cookin'?
I'm serving up Bernard Nightingale, a University Don. He's turned up to help gather evidence to support an exciting new theory about Lord Byron that will rightfully catapult him into fame in academic circles. He stands out in the play as a character that leads with his heart and his gut (would never follow the ingredients list) rather than the more reserved and logical people we meet.
What ingredients do you need as Bernard and what gets your taste-buds tingling the most?
The chief ingredient to Bernard is heaps of confidence. Like adding salt, it'seasy to overdo it so it's important to be careful not to go too far and spoil the mix. Tom Stoppard wrote this to originally be set in the 80s and Bernard really captures the flavour of how successful, powerful men acted three decades ago. Simultaneously attractive and offensive, he's an acquired taste to say the least. I can't wait to get stuck in to such a divisive character and bring them to life.
What age or time in your life did you roll into theatre and who has inspired you?
Theatre has been in my life in one way or another pretty much constantly.
I started with Gang shows in the scouts, even stepping up on stage at age 10 in a grass skirt and coconuts to sing Bali Hai from South Pacific. I joined Monstrous Productions (Peculiar Productions' spiritual predecessor) nearly five years ago to take the role of Albert in Mort. I have remained at the age of 34 now for those five years, at least according to the programmes! I'm also a member of Newport Playgoers and really enjoy the wide range of plays we do there. This company is special though. I love the charitable giving we do and how much of a community it is,  which certainly makes it feel every minute is worthwhile.
How did you find the audition process?
Auditions are very exciting! Like so many of us back at school, I didn't revise in good time and had to do a panic cramming session in the final 48 hours. Thankfully, when it comes to Tom Stoppard, there's a wealth of information online. Cliff notes totally saved me but also really made me appreciate the layers in this play. The Director let the actors bring their own interpretations of the characters which was great- there wasn't a sense that you were getting it wrong and I even understand there's been some pleasant surprises with what's been brought by other cast members!
Sweet or Savoury?
My family would love to tell you–even as a child my favourite things to eat were stilton, parsnips and Yorkshire pudding. I was never a sweet kid and that's not changed as I have aged!
If you were a type of bake, what would you be and why?
Ohhh, I'd have loads of cheese on top and a thick shell, plenty of bitter, salty layers with a surprisingly sweet centre.
What is your recipe for fun?

Does this not count? This year I'm involved in 4 productions and will be directing one of them. It takes up four or five nights a week. I do love spending time with our cats at home though and am just squeezing enough hours in the week to go for a jog (and learn lines while I'm doing it!)
What would be your Desert Island Dish be?
One dish I'd never tire of? Sushi. No, olives! No, mussels! See? Savoury every time!
Who is your favourite baker in GBBO 2018?
I love the sass that Ruby brings and can absolutely relate to that. I hope she can bring it home. I am not as humble as Rahul so he'd not get my vote at all!
What would be the cherry on the top?
I want Arcadia to be a huge success! Tom Stoppard is an amazing writer. I really love the dialogue and characters he puts together. There's a damn good reason he's considered a master playwright. As a company we've previously stuck to our comedies written by Steven Briggs and kept it Discworld. Moving away from what we know is a big step for us and I really hope we can entertain everyone and put on as good as show as our audience is used to. Even more so, I hope we can get some new fans and do even more good for our supported charities!