'A triumph of a debut' – Geeks in Wales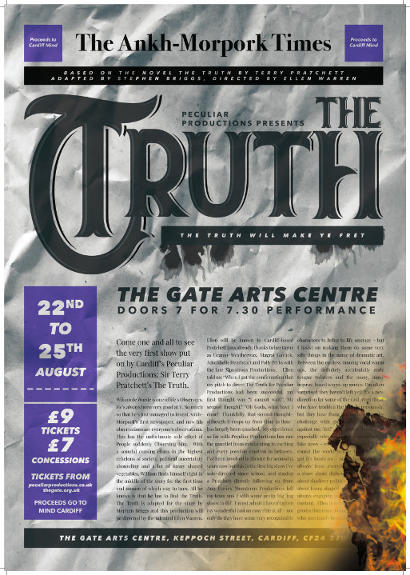 By Terry Pratchett. Adapted by Stephen Briggs. Directed by Ellen Warren.
22nd – 25th August 2018, The Gate Arts Centre, Cardiff.
Wiliam de Worde is one of life's Observers.
He's always been very good at it. So much so that he's just managed to invent Ankh-Morpork's first newspaper, and now his observations are everyone's observations. This has the unfortunate side effect of People suddenly Observing him.
With a scandal causing chaos in the highest echelons of society, political uncertainty abounding and a lot of funny shaped vegetables, William finds himself right in the middle of the story for the first time and unsure of which way to turn. All he knows is that he has to find the Truth.
The Truth was Peculiar Production's first show, and raised £5,000 for Cardiff Mind.
---
Production photos
Cast and Crew Photos
Rehearsal photos
Colour photography: JH Photography | Black and white photography: Ex Cathedra Photography | Additional rehearsal photography: Hannah Bennet
---
Cast and Crew
Directed by Ellen Warren
Cast
---
William De Worde – Loz Shanahan
Sacharissa Cripslock – Caitlin Bamber
Otto von Chriek – Josh Stevenson-Hoare
Gunilla Goodmountain – Josh Flynn
Boddony – Beth Lisles
Mr Pin – Asher Townsend
Mr Tulip – John Byron
Mr Slant – Ed Thomas
Gaspode the Wonderdog – Matt Hitchman
Foul Ole Ron / Wuffles – Paul Woolley
The Duck Man / Ronnie Carmey – Richard McReynolds
Altogether Andrews / Mr Wintler – Tony Beard
Coffin Henry – Howard Dickins
Lord Havelock Vetinari – Michael Dickinson-Smith
Drumknott – John Simpson
Archbishop Hughnon Ridcully / Old Priest – Steve Durbin
Commander Sam Vimes – Jes Hynes
Sergeant Angua von Uberwald – Katya Moskvina
Sergeant Fred Colon / Mr Mackleduff – Matt Edwards
Corporal Nobby Nobbs – Pete Belson
Various – Harold T. Spencer
Coporal Cheery Littlebottom – Holly Raddy
Lord De Worde – Terrance Edwards
Lady Selachii / Mrs Crank – Sarah Roberts
Lord Rust / Mr Cartwright – Nick Dunn
Crew
---
Production Manager– Joe Davey
Set Design – Tony Beard
Set Design – Holly Raddy
Costume / Fundraising – Liz Alison
Props design / Stage Manager – Lizzie Mulhall
Assistant Stage Manager / Wardrobe – Sarah Burrow
Makeup Design / Assistant Stage Manager – Vicki Rowe
Video Design / Publicity – Hannah Bennett
Sound and Video Design – Sam Lewis
Lighting Design – Sarah Dicks
Costume Design – Emma Jane Weeks
Makeup Artist – Kat Orford
---
Downloads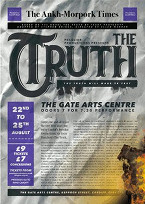 Download the programme
(5mb download)