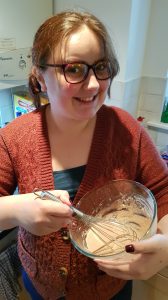 Meet the team kneading and proving Peculiar's next production, Arcadia, ready to rise to the stage in February 2019!
Who are you and what you got cookin'?
I'm the director! We are currently preparing for auditions, so it's lots of documents and spreadsheets and refreshing emails every ten minutes.
What ingredients do you need as director and what gets your taste-buds tingling the most?
Patience and respect – it's the only way your team will have patience and respect towards you. And a definite hunger for fun.